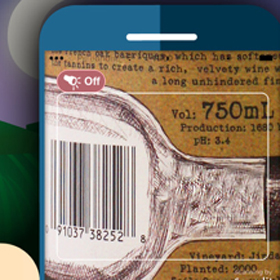 Have you ever had a great bottle of wine one night, and not been able to remember what it was called the next morning? Yeah, all of us have. Thanks to the new-to-us app Cor.kz, this should no longer be a problem. Judging by how many times I've tried to perfectly align a teeny candle next to a wine bottle label at a fancy restaurant for a picture, only to have it be lost in my Camera Roll forever, well… let's just say I'm glad I found this app.
Cor.kz has a barcode scanner built right into the app. Once you scan the label, you get accurate pricing and customer reviews, as well as professionally-supplied tasting notes. The app even lets you do side-by-side comparisons of two different bottles if you're having trouble choosing.
Cor.kz also features wine cellar management software in case your collection is too big for you to just look at (shouldn't we all have this problem?); the app will tell you which wine is ready for drinking, and which would be best to hang on to for a little big longer. You can also add and remove wine from your inventory by scanning the label.
This app also has a "Places" feature, where you can browse wine bars in your area, and a "Near You" feature that shows you who near you is using the app and exactly what they're drinking – helpful when deciding whether or not to crash someone's wine and cheese soirée.
All jokes aside, this is a fantastic app for anyone that enjoys a little vino. Best of all, it's only $1.99 – cheaper than that Two Buck Chuck from Trader Joe's.