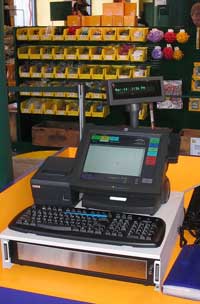 Penn Center Systems (PCS) is a leader in multiple hospitality and retail markets and its experience includes a wide variety of POS and self service solutions across multiple industries
PCS Systems has been serving the state of Pennsylvania for over 31 years with over 1,000 installations statewide in restaurants, K-12 schools, specialty retail establishments, and hotels. So chances are, if you've eaten, lodged or shopped in the state of Pennsylvania, PCS has contributed joy to your experience.
Numerous independent and chain operators depend upon PCS to streamline their operations and satisfy their customers ever-growing demand for guest-focused, assisted and self-service technologies. PCS has shown a stalwart commitment to advancing technologies. "Each year consumers' needs grow more sophisticated; in order to stay competitive, the systems we use to serve them must evolve to meet those needs while at the same time providing business owners with critical information necessary to retain and attract customers, monitor inventory and streamline operations. A good POS system will fortify the brand experience while yielding tangible profits." says, David Hall, Marketing Manager, PCS Systems.
CAP Software is a versatile, user-friendly Point Of Sale package, rated #1 by Business Software News
Among the many solutions offered by PCS, CAP Software has proved itself time and again. Two of the most recognized brand names in the world, Hershey's and Crayola, utilize the CAP retail solution. CAP manages four Hershey Foods company stores, the Crayola company store and the Crayola Factory Giftshop, home of the world's largest crayon; in flagship stores like this where the brand experience is at the forefront, it is imperative that operations run smoothly. Each transaction that occurs in that store not only drives revenue, but reflects directly on the company name. Many business owners overlook their operations when considering brand presence and marketshare, but how your customer feels when they leave your store, is how they feel about your brand. A system that gives you the tools to provide a pleasant experience and anticipate their needs is going to yield myriad benefits to your bottom line.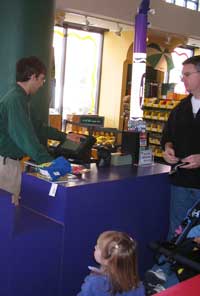 CAP Retail Manager is the Industry Standard when it comes to inventory control and sales analysis. "CAP Retail Manager has allowed us to better order inventory and provides us with a better understanding of our best sellers and when the items sell. It has definitely made our inventory easier to access. It also allows us to capture names and addresses from our customers, in order to send out mailings, which ultimately result in sales. It has also allowed information such as anticipated needs, quantity of inventory on hand and on order to be accessed easier." says, Tammy Meyers, American Civil War Museum & Gettysburg Gift Center. The American Civil War Museum is another of Pennsylvania's mainstays that relies on CAP to maintain its operational efficiency and customer experience. Other CAP installs are as vast as the commonwealth, spanning 14 industries including two operations owned by sports celebrities; Indy Car Champion Bobby Rahal and Washington Redskins' Larry Johnson.