As social media proliferates, pretty much every retailer is looking at how they can "ride this wave" to the mobile consumertheir advantage. But while many retailers think of it as just another channel to advertise to your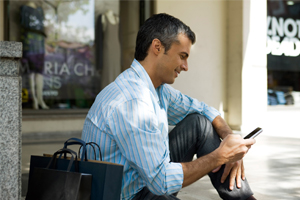 customers, social media can be so much more.
That's because social media enables retailers to both listen to their customers and engage their customers. And that balance—the yin and yang, the give and take—is what's required for retailers to realize social media success.
Can I hear you now?
In many ways, social media is an always-on focus group. Let's say you're a seller of women's apparel. You see a cluster of tweets in which customers lament they can't find the right size or don't like the new colors for the fall season. You just got advance notice of what your point-of-sale (POS) reports won't tell you for another month. You can take instant action to change the product mix at the retail storefront. The reverse is also true… if your inventory control system is reporting an 'out of stock' on red dresses, but an overstock on black dresses, your social media campaigns need to adapt in realtime to reinforce that 'a girl can never have too many black dresses for the holiday season'..
Not only that, but you can also cross-tab social-media data by gender, age, those who shop on weekends, non-customers versus loyal customers, and so on. In fact, that's a perfect example of Big Data in action—millions of bits of data that, with some sophisticated analysis, can reveal true insights. Once you have that, you can begin to understand how pricing, merchandizing, and couponing strategies can alter your customer experience and your margins.
Talking back
Social media also enables you to directly engage your customers—and increasingly, your competitors' customers. Let's say a customer tweets that she's upset she left a competitor's 20 percent-off coupon at home (which of course you would notice as you're monitoring conversations about your competitors , aren't you?) . That's your opportunity to send a tweet direct to the customer with your own 20 percent-off coupon.
In fact, one of the most valuable aspects of social data is that it's "living" . It's a point-in-time data source, but because it's unique and personal, it lets you measure unique trends over time. For example, you can launch an initiative to grow "share of voice" of a specific customer set, and measure precisely how your actions and engagement efforts influence those people over time.
That's very hard to do with other data sources. And it's what allows you to build a "target segment of one" to optimize customer experience for each individual customer.
Cloud computing, data analytics, and in-memory computing are crucial tools in combining and leveraging that social data with POS data, loyalty data, and syndicated data. Most retailers already have far more data sets than they ever anticipated. But they aren't achieving the insights they could and should. Enriching those data sets with the million bits of social data requires thoughtful planning on the back end, where the data is stored, and on the front end, where it's visualized.
Look before you tweet
For all its advantages, social media carries potential downsides. One is that as long as customers are interacting on Facebook or Google+, much of their data remains locked in Facebook's or Google's servers, and creating an environment where much of your most valuable data isn't even something that you 'own'. Some retailers might consider creating private (so called 'owned') social platforms where customers can engage—and where you can access their data and engage the customers directly in exchange for value you provide them.
To that end, never expect your welcome to extend beyond the terms of your relationship. Let's say a customer "likes" your branded line of tools. He probably wants to be kept in the loop on your new ratchet set. But he doesn't want to get involved in your company's political conversations about immigration, minimum wage, or civil rights – no matter how noble they might be.
More important, never let your social activities cross the line into creepy. Perhaps you can aggregate data from a customer's loyalty card, purchases, and social activity to determine with 100 percent certainty their income, marital status, and political views. That doesn't mean you should. There has been ample media coverage of companies that became too invasive in the collection of data.
The customer you keep
Many of your customers are actively communicating on Facebook, Twitter, and other social platforms. If you aren't managing your social media presence, they may be doing it for you. If a customer repeats a completely erroneous allegation that you sell products made with child labor, for example, you have to be part of the conversation if you want to control the damage.
At the same time, don't look to social media solely to engage your "complaining 10 percent." Yes, you need to respond to customers who have had a negative experience. But what about the customer who refers to your coffee chain by tweeting, "Just ordered my favorite latte at my favorite café!"? You can respond, "And we love seeing you, too!" Customers who are acknowledged by the brands they love deepen their loyalty—and can become your best ambassadors.
It's all part of the give and take of social media.