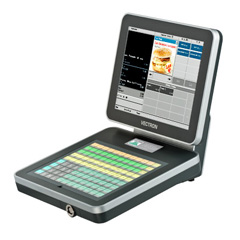 Vectron offers a high-performance, extensive and technologically leading product line for the point of sale.
Intelligent POS Systems: Top Technology for Professionals
Vectron's model line consists of stationary, mobile and hybrid POS systems for an extremely broad range of company sizes and types. All models are produced from high-quality materials and are extremely rugged in order to operate reliably for many years. Failure and maintenance times are therefore reduced to a minimum. All POS systems are ergonomically shaped and have a demanding design for pleasant use.
Vectron POS systems process even the largest data quantities and complex computing processes lightning fast, accelerating ringing up sales and transferring POS system data between headquarters and points of sale.
Flexible POS Software
Especially for the main target sector hospitality, the software contains many special functions which simplify everyday working life and accelerate routine working procedures. The flexible software also enables individual solutions, which are matched to the respective industries and even to the individual customer's operations. And for maximum operating comfort, the software is intuitive and easy to operate.